Integrated Budgeting Software for Business – Planning and Forecasting Made Simple
Cut your budget cycles by 50% and focus on the insights that matter.

Limelight powers some of North America's fastest growing companies
Detailed Planning and Forecasting for any Possible Outcome
Be prepared for any situation.
Planning Beyond Spreadsheets
Power your business from one single platform, so you can easily connect your data, centralize calculations & business rules, plan for multiple scenarios, and access real-time insights.
Forecast for the Future
Limelight is the industry-defining financial planning and forecasting solution that gives finance teams the granularity of detail required for in-depth analysis. See the impacts of your potential decisions months and years in advance, allowing you to achieve greater accuracy with your forecasts.
Team-Wide Participation
Communicate and collaborate with your whole team in real-time and start solving problems faster while uncovering new trends and insights.
Helping Finance Teams Be More than Data Stewards
Unleash Your Team's Analytical and Creative Potential
Planning Beyond Spreadsheets
Limelight is 10x faster, and 10x more dynamic. With advanced data structures and analysis as well as automation of daily tasks, you will save time and gain greater accuracy. Our advanced planning features put finance teams light years ahead of those still stuck on Excel.
Forecast for the Future
Predict your financial performance in real-time, with a deeper understanding of the key business drivers that drive your forecasted outcomes.
Team-Wide Participation
Start solving problems faster and uncover new insights in Limelight. Get away from the constant need to version and comment on Excel workbooks and email attachments, and free up teams to do their best work by putting all their effort into one place.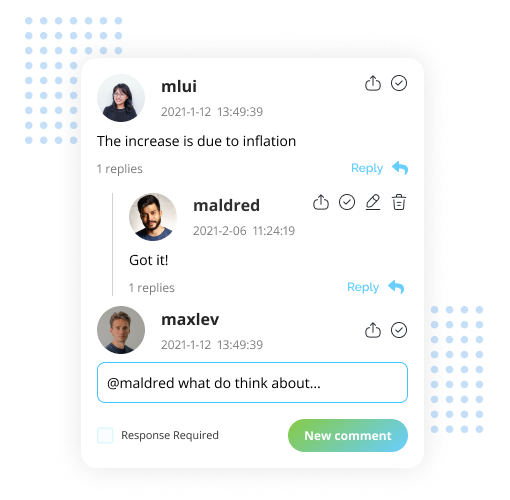 Right Choice for Our Team!
We were able to create forecasts and new metric reports that better guide our business decisions.

Adds Tremendous Value for Us
Users find it easier to adopt the system and we now have a centralized place for budgets, expenses and reports.

Time Savings
Successfully written 30+ reports for 100+ users. With the time saved we can now leverage the time for other business endeavours.

Everything in One Place
Limelight lets us put everything in one place. We can get our budgets and reports done much faster now.

Allows Flexibility to Drill-Down
Very user friendly and similar to Excel, our team felt comfortable using Limelight right away.
Calculate Your Time & Cost Savings with Limelight
Your Results
Year 1 ROI % with Limelight:
%
Annual Time Savings:
Hours
A Better Way to Plan & Report
Don't let this minute slip away. Learn how you can pivot from manual to automated FP&A.
Request A DEMO